2021 Incidents
January
50
February
48
March
63
April
44
May
63
June
July
August
September
October
November
December
2020 INCIDENTS
JANUARY
33
FERRUARY
51
MARCH
36
APRIL
26
MAY
65
JUNE
70
JULY
65
AUGUST
74
SEPTEMBER
64
OCTOBER
65
NOVEMBER
59
DECEMBER
38
2019 Incidents
January
76
February
48
March
42
April
38
May
57
June
63
July
79
August
52
Septamber
58
October
94
November
60
December
44
Total
711
2018 Incidents
January
56
February
43
March
73
April
46
May
43
June
52
July
77
August
85
September
58
October
65
November
59
December
55
Total
712
2017 Incidents
January
56
February
28
March
47
April
45
May
42
June
55
July
77
August
55
September
44
October
53
November
48
December
50
Total
600
Web Counters
Website Visitors
Since
October 5, 2016

Visitors Today
Jun 19, 2021

By Captain Sam Homsi
August 30, 2020
The Board of Engineers recognized the need to restructure the line officers of the Westerly Fire Department. The Board developed a new command structure of 2 Captains and 4 Lieutenants. These officers were selected after an application process and oral interviews. The new line officers began their duties June 1, 2020 and were recently recognized at our Annual Meeting Wed, August 26, 2020.
The Board of Engineers would like to thank the company officers for their hard work and the members of the companies for embracing the new department line officers as we look to move the Westerly Fire Department forward.
Congratulations to Captains Fricke & Homsi and to Lieutenants Baker, Haik, Henderson, & Izzi.
Photo Credit: Danny Hyland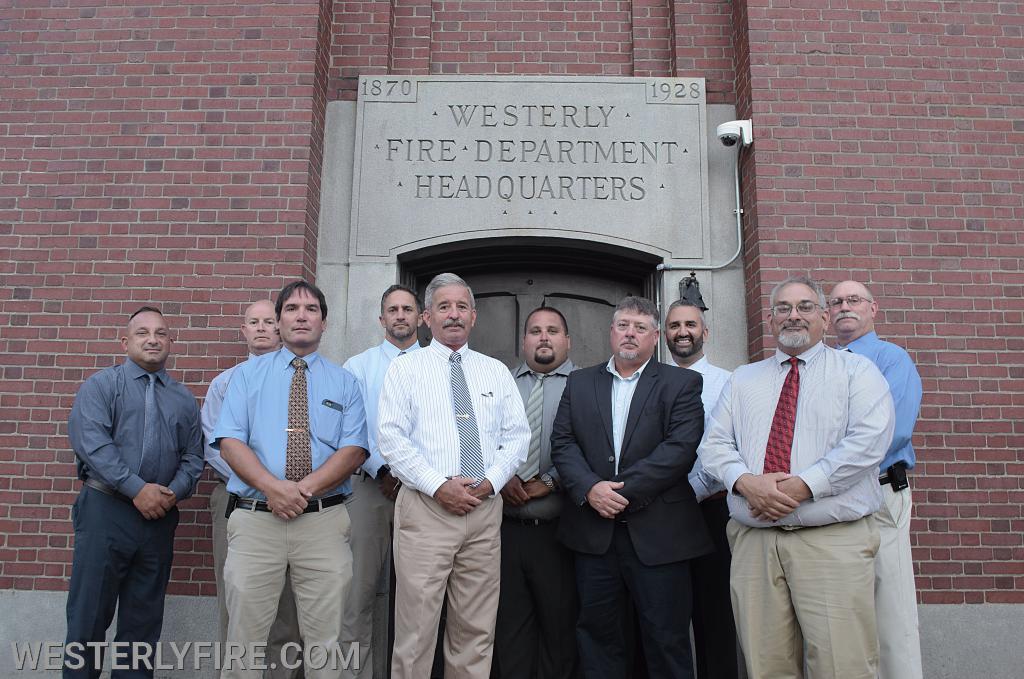 Front Row (Left to Right): A/C Trebisacci, Chief Mackay, A/C Morrone, A/C Fusaro Back Row: Lt Henderson, Lt Baker, Lt, Haik, Lt Izzi, Cpt Homsi, Cpt Fricke